Place to Gather
Lifespring is building a place to gather that will bless the neighborhoods, schools, & families in the greater Richmond Spring Grove Community.

What if…
What if the local church was the heartbeat of the community? Not only for church on Sundays, or limited to church events. What if the local church was the place people in the community wanted to come to gather?
A place to learn, play, serve, and just hang out.
LifeSpring Church and Community Center will be a place in the community where local residents come to gather. It will be a place where people come when there is a natural disaster either in their lives or throughout the community. The purpose of the facility, simply put, is to make disciples of Jesus Christ while at the same time blessing all the community.
2 Questions
What do you love about our community? What does our community need?
The Place to Gather campaign centered around asking these 2 questions. Click here to share your answers with us.
Our Plan
In order to best meet this vision, we are listening to the needs of the community through forums, surveys, statistics and conversations with many people. We are collaborating with the Villages of Spring Grove and Richmond as well as businesses, service organizations, schools and other churches.
Because LifeSpring Church and Community Center will be highly visible and represent Christianity in our area, we want the project to be a warm, aesthetically pleasing, highly functional and well-maintained facility. Visitors will be warmly welcomed. While the facility is meant for all people, LifeSpring is unapologetically Christian, committed to the Scriptures and what they contain.
Site Location
The site is located at Route 173 and Siedschlag Road. We are excited about the possibility of LifeSpring Church and Community Center being located at such a visible and central location. This location will draw folks from Antioch, Richmond, Spring Grove, McHenry, Fox Lake, Johnsburg, & more.
Proposed Site Design: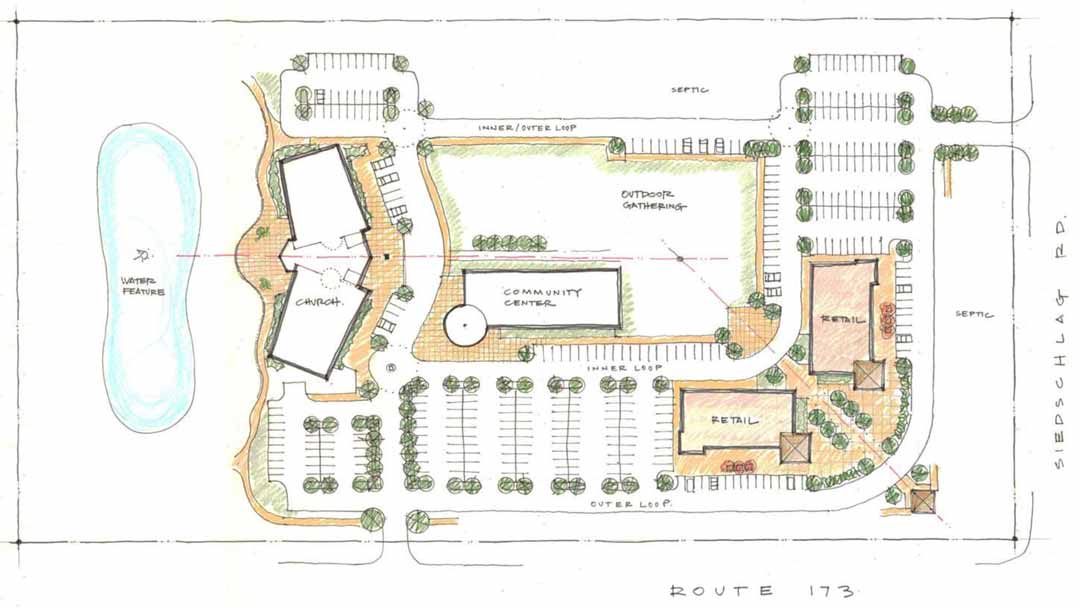 (The above pictured site design is not final)
Concept Architectural Elevation Renderings
These are current elevation concept renderings of Place to Gather. These elevations include current and future phases.
(The above elevations are not final)
Progress Updates:
12/04/19
Awarded our first grant for $9,000 from the Oldham Little Church Foundation for Sanctuary Chairs!
11/01/19
Required Tree Survey Completed & Association Team Formed
8/16/19
We gathered together for the Place to Gather Back to School Fest in order to raise funds for a community playground and walking paths at Place to Gather!

5/19/19
LifeSpring hosted a Place to Gather update and luncheon

4/27/19
LifeSpring hosted our first Place to Gather 5K on the property in order to raise funds for a community playground and walking paths at Place to Gather!

2/20/18
Initial plan presented to the Spring Grove Village Board
1/10/18
Decision to pursue land development